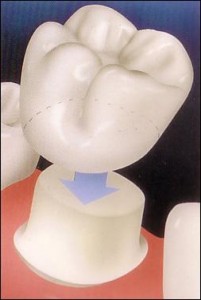 Crowns have been used to restore teeth since 700 B.C.; fortunately, since those early days of crown making the techniques and materials have vastly improved. Interestingly enough, those earliest crowns were made from gold, a material we commonly used to fabricate crowns up until only recently. Today we are witnessing a transformation from gold and gold based crowns to more aesthetic zirconia and lithium disilicate crowns.
When does a tooth need a crown? This is an extremely common question that can best be explained by thinking in terms of how much tooth structure does the dentist have to work with. There is a basic continuum for dental restorations: filling → inlay → onlay → crown. Each of these chosen types of restorations is dependent upon the amount of tooth structure that the dentist has to work with.
Historically, crowns were made out of stainless steel, gold, porcelain fused to metal and all-ceramic materials. Today, more and more, the trend is away from metals and more towards ceramics. This is because ceramic crowns today are more durable, more biocompatible and more beautiful than crowns made of metal or ceramic and metal.
In our office, we almost exclusively use zirconia or lithium disilicate crowns; although occasionally we will have a traditionalist who still wants gold; in which case, we will happily oblige.
It is an exciting time to be in dentistry when amazing materials are being developed to solve past restorative concerns: beauty vs. function. Today, unlike the recent past, there is no concern that the tooth-colored restorations being placed in every area of the mouth will be biocompatible and durable.
Common uses for crowns include teeth with insufficient tooth structure to support a more conservative restoration, over a dental implant or over a tooth with a root canal. The reason a tooth with a root canal needs a crown is because once a tooth has had a root canal it is no longer vital. Think of your tooth as a dead tree in the forest. If you push on that dead tree hard enough it will fall over. This is the same with your tooth that has had a root canal. If you bite down on something hard the tooth could "fall over" or break, which would lead to having to extract the tooth.
Today's dental crowns may not make you feel more regal but they will do an amazing job of restoring your broken down tooth in a highly biocompatible and aesthetically pleasing way. Gold crowns will be a thing of the past as we move into less expensive and more aesthetic zirconia and lithium disilicate crowns.
For any new patient, we are currently offering 15% off of our normal price for any zirconia or lithium disilicate crown. In an effort to entice you to become part of our "family of patients" and to see first-hand how beautiful these newer crowns are, we invite you to call Randi (714-838-0760) to ask any questions and to schedule your free consultation.